Wahbash Avenue 1 Nov 2016 Hobart Blues Club Gig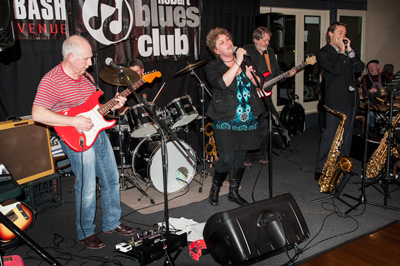 Performing together since 2005, Wahbash Avenue presents a blend of high energy electric blues with rhythm and soul, with material from the Fabulous Thunderbirds, Bondi Cigars,Susan Tedeschi, Junior Wells, Etta James and many more.
Regularly performing at the Republic Bar, Prince of Wales Hotel, The Hobart Blues Club and performing at the 2010/11 and 2011/12 Taste of Tasmania and the 2011 and 2013 Adventure Bay Blues and Roots festivals.
Wahbash Avenue delivers the tight rhythms of Peter Reid (bass) and Neil Readett (drums), Rob Hewer's guitar with tone to spare, the Mississippi sax (and occasionally the real sax) of Ian Readett, and of course the powerful and soulful vocals of De Anna
Parkinson.